Back to all posts
Posted on
Winter Flower Fundraiser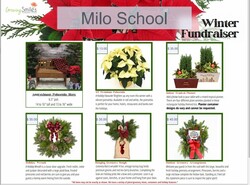 The Milo Community School is excited to announce our Winter Flower Fundraiser. We will be selling a variety of plants which are included on the order form. The money raised will be used to help cover the cost of the Evergreen Theatre residency and the junior high marine biology trip. Orders are due Wednesday, November 23 and plants can be picked up at the school on Wednesday, December 7.
A link to the online order form can be found here.
or a printable version can be found here.
Payment of cash or cheque can be dropped off at the school or mailed to:
Milo School
Box 90
Milo, AB
T0L 1L0
Please make cheques out to: Milo Community School