Back to all posts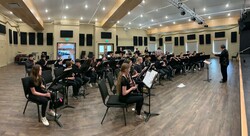 Our junior high students joined students from Arrowwood School and CCHS at SABC for a collaborative band session. Students were put in small groups to receive specialized instruction from two band clinicians. The students were reunited after lunch to play together as one group and perform for a video recording which was sent to the Highwood Music Festival. An adjudication will take place online on Tuesday, March 29th. 
Thank you to Mrs. Marilyn Newbury for organizing this great opportunity, and thank you to our parent volunteer Katie Walker for sharing her music knowledge and helping our students do their best. 
Please click on the links below to view the recordings. 
Alpha Overature by Jack Bullock