Back to all posts
Posted on
Spring Flower Fundraiser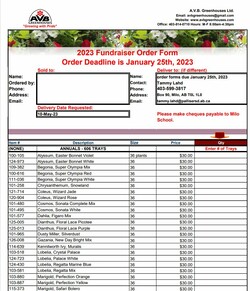 It's that time of year again! Time to plan and order beautiful flowers and plants for your gardens. Milo School is once again partnering with AVB Greenhouses for our annual spring fundraiser. Orders must be completed and returned to the school no later than Wednesday, January 25th.  The plant orders will be delivered to the school May 10th just in time for Mother's Day. 
A printable version of the form can be found here or printed forms can be found at local businesses, the post office and the Milo Library. 
Thank you to everyone for continuing to support our fundraising efforts.